Every block of stone has a statue inside. The task of the sculptor is to discover it. At CMG, we are keenly interested in the topic of business family succession. It's the heart of our business. And since we also know and appreciate that family-owned enterprises are the hidden engine of our country's economy, we believe it's a topic that matters for all Canadians.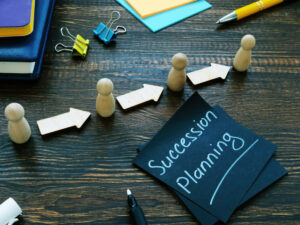 At its essence, the question of business succession is this: "Who will own and operate my company after I'm gone?" Although it's a simple question, its also perhaps the most perplexing challenge faced by business owners. Both emotionally and financially complex, it involves abstract considerations like the impact of income and estate taxes packed together with detailed technical, legal and accounting issues. It also involves family considerations about what's fair between different children – and even whether the children should be involved at all. The succession question is enough to make anyone crazy, never mind those who are already faced with the day-to-day complexities of owning and running a successful business.
How best to find your family's answer to the succession question? Is there a hidden secret to business family succession?
Some recent examples in the news can give us guidance. At first blush, these real-life "case studies" would appear to have almost nothing in common. But, as we shall see, careful reading should lead the secret answer to reveal itself.
Red Bull: Mateschitz and Yoovidhya families
Red Bull is the brainchild of a remarkable Austrian entrepreneur, Dietrich Mateschitz, in partnership with the Thai entrepreneur and billionaire, Chaleo Yoovidhya. Yoovidhya invented an energy drink he called Krating Daeng (Red Bull in English), and Mateschitz figured out a path to bring it to the world. The Red Bull company, which is now known everywhere on the planet, began in the mid-1980s and now employs approximately 13,000 people in 172 countries with annual revenue of USD $10 billion – and nearly 10 billion cans sold per year.
Although Mateschitz was the face of Red Bull and had a largely free hand in his decisions from the very beginning, he never owned a majority interest in the group. The company now has three shareholders. The Mateschitz family, through its family holding company, owns 49 percent. Another 49 percent is owned by the Yoovidhya family in Thailand. And the remaining two percent is owned by the son of the company founder, Chalerm Yoovidhya. Although Mateschitz had total operational control, the Yoodvidhya's own majority of the company.
In October 2022, Dietrich Mateschitz died from pancreatic cancer. Less than a month later, Red Bull published a letter from his son, Mark:
"As proposed and desired by both my father and myself, and supported by our Thai partners, a Board of Directors will manage the business affairs of Red Bull. This will consist of Franz Watzlawick (CEO Beverage Business), Alexander Kirchmayr (CFO), and Oliver Mintzlaff (CEO Corporate Projects and Investments). Franz, Alexander, and Oliver were our dream team. I am very happy that they will be taking on this task."
While Mateschitz's only son, Mark, will inherit his father's estimated $25 billion fortune, operational control of the company will be legally transferred to professional directors. As Mark states simply later in his letter, "I do not believe one should be both an employee and a shareholder of the same company. I will concentrate on my role as a shareholder."
Patagonia: Chouinard family
In November 2022, we wrote a piece on the highly unusual plan announced by Yvon Chouinard and his family. A half-century after founding the outdoor apparel maker Patagonia, now valued at over USD $3 billion, the eccentric rock climber who built his company into a global force for environmental causes, has ensured that his legacy will continue with a unique ownership structure.
Patagonia announced that its shares will be owned not by Chouinard family members, but rather by a voting trust and a non-profit organization. In August 2022, the family irrevocably transferred all the company's voting stock (equivalent to two percent of the overall shares) into a newly established voting trust known as the Patagonia Purpose Trust which will be overseen by family members and their closest advisors.  The balance of the company (98 percent), was transferred to a non-profit organization called the Holdfast Collective which will "use every dollar received to fight the environmental crisis, protect nature and biodiversity and support thriving communities as quickly as possible."
While Patagonia itself will continue to operate as a private, for-profit corporation, selling over USD $1 billion worth of its famous sportswear every year, the company is now effectively owned and controlled by two entities. First, a family-controlled voting trust, will be responsible for the strategic direction of the company. Second, a 501(c)(4) non-profit organization will be the recipient of dividends paid from the company's estimated annual profits of USD $100 million.
It's a remarkable plan and one that is entirely consistent with Chouinard's unconventional approach to wealth.  He was quoted in the New York Times as saying "I didn't know what to do with the company because I didn't ever want a company… I didn't want to be a businessman. Now I could die tomorrow and the company is going to continue doing the right thing for the next 50 years, and I don't have to be around."
Mars, Inc: Mars family
We've been tracking the Mars family and business for some time. Founded over 100 years ago by Frank Mars Sr., and still owned entirely by the third and fourth generations of the Mars family, the candy and pet care company recently surpassed Coca-Cola in annual revenues (USD $45 billion).
Long managed by non-family professional executives, Mars announced its latest CEO transition late last year. After an eight-year tenure led by Grant Reid, and a period of unprecedented growth which saw their global sales almost double from USD $28 billion to USD $45 billion, a new CEO named Poul Weihrauch was announced. Weihrauch, originally from Denmark, had been running the company's pet care business and oversaw an extraordinary expansion including their USD $9.1 billion purchase of VCA Inc., a group of 800 pet care hospitals.
Despite the family's intense commitment to privacy, the two remaining third-generation Mars family members commented publicly about their appreciation for retiring CEO Grant Reid. "His values and character align so well with the family, and he has a wonderful sense of humour that helped carry us through some difficult challenges," said Jacqueline Mars, 82. John Mars, 86, hailed Reid's "healthy dissatisfaction for the status quo".
The Mars family, while retaining complete ownership of the shares, has long delegated the operational management of their company to professional executives. The succession process that started when the company was transitioned from second-generation owner Forrest Mars Sr. to his children Forrest Jr., John and Jacqueline, now continues to yield sustained growth nearly 60 years later, and over 100 years since the company was founded.
Edison Properties: Bergen family
Closer to home, in Winnipeg, is another recent succession. Miriam Bergen, the owner of a real estate company called Edison Properties, passed away in January 2022 from cancer at the relatively young age of 66. She had no children and is survived by her lifelong partner, Louise Redekop.
Edison Properties was founded by Miriam's father, Martin Bergen who emigrated to Canada from Ukraine in 1956 at the age of 26. Like so many of Canada's real estate business founders, "Martin worked his way up with hard work and determination, from contracting drywall and painting to constructing apartment properties that represent, to this day, the cornerstone of Winnipeg's apartment landscape." And, like so many of Canada's real estate business successors, Miriam was raised in the family business and learned from her father to treat Edison's 200 employees as family.
Here's where the story takes an unusual turn. On November 29, 2022, roughly 10 months after Miriam's death, The Winnipeg Foundation announced the following:
"A local business owner and quiet philanthropist has given the largest gift ever made to a Canadian charity by an individual… an extraordinary unrestricted gift from the late Miriam Bergen, owner and president of Appleton Holdings Ltd. – a privately held company that carries on business as Edison Properties. The gift to the community, which includes the shares of Appleton, is believed to have a value of approximately CAD $500 million and was left to The Foundation through a bequest in Miriam Bergen's will."
Furthermore, the announcement mentions that "all (of Edison's) employees will continue on a 'business as usual' basis, with the existing management structure and independent Board." In other words, the previously family-owned company will now be owned by a community foundation and its profits "will support The Winnipeg Foundation's work in the community."
There are many potential technical challenges to Miriam's plan, not the least of which is that Canadian law generally prohibits charities from owning and operating businesses. Nonetheless, the plan clearly made sense for Miriam, and presumably her advisors and The Winnipeg Foundation.

The hidden secret
Red Bull is transferred to an only son, with operational control to three senior executives. Patagonia is transferred to a non-profit, with a separate voting trust constituted by family members. Mars stays wholly owned by the third and fourth generations of the family, managed by professional executives. Edison Properties is transferred lock stock and barrel to a community foundation. What do these widely varying succession plans have in common? What do they tell us about answering your succession questions for the family and business?
A hint: the famous Italian sculptor Michelangelo once said, "the sculpture is already complete within the marble block before I start my work. It is already there. I just have to chisel away the superfluous material."
Our view, and what our experience with Canada's business families tells us, is that the "true" answer to the succession question is already complete inside the minds of the current owners. In other words, current owners already have an intuition about what kind of plan could work for them, and perhaps more importantly, what kind of plan would not work for them. They know in their hearts, for example, if they have children who are capable of running their businesses, or children who are even capable of owning the businesses. What they often do not yet know are the various combination of options available.
A second hint (how to find those options): in a simple, thoughtful and open conversation with skilled advisors, the "true" answer to the succession question will reveal itself.
We once received great advice from one of our clients. He mentioned that the consultants he had previously employed to help his family with succession had arrived on the scene with solutions ready – but the solutions never felt right. They felt awkward, like they were a fit for someone else's family. Instead of asking him what he really wanted, and waiting patiently for the answer to reveal itself, these consultants had shown up with ready-made, pre-packaged solutions.
"You guys," he said, "worked differently. You showed up and listened for our ideas, listened for what we wanted to achieve, and listened for a path that made sense for our family and business. And that made all the difference."
In our experience, the secret to business family succession is finding an advisor who will engage and listen for the plan that makes sense for you and your family, who will help you navigate through the options available to find the right fit for your family and your business, and who will help you discover the statue buried inside your block of marble.
Peter Creaghan is a Partner at Creaghan McConnell Group.